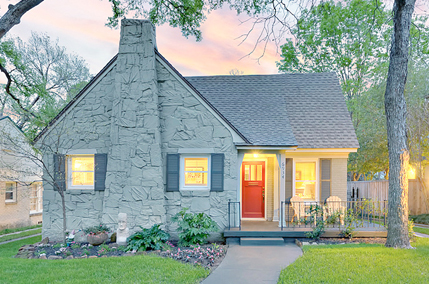 Lakewood
is one of Dallas' more eclectic neighborhoods, as it boasts a wide array of housing styles that will satisfy the tastes and budgets of almost any demographic. Many of the separate districts that make up Lakewood were developed in the earlier part of the last century and up until the 1950s, and a lot of the charm that characterizes this era remains intact today.
One local landmark that serves as the beacon of the community's commercial district is the historic Lakewood Theater, which was built in 1938 and boasts a striking post-modern neon-lit marquee. Surrounding the theater is an entire neighborhood of diverse commercial attractions from trendy shops, hip new restaurants and local institutions like the Dixie House Cafe.
When it comes to architecture, the homes here run the gamut. Because this neighborhood is filled with historic and conservation districts, there are an immense number of gorgeous houses with unique character in this neighborhood that help tell the story of Dallas. Among the notable styles that can be found throughout these locales are Craftsman, Prairie-Four Squares, Tudors, Spanish, Mediterranean Eclectic and Early Ranch homes, along with bungalows of various sizes and price points.
This neighborhood is a fantastic area to raise a family as well, with Lakewood Elementary School (K-5), J.L. Long Middle School (6-8) and IB World School Woodrow Wilson High School (9-12) all offering top-tier public education to local residents.
Finding the perfect home in the right area to fit your needs and tastes is no easy feat, but the lifestyle pros at Modtown Realty have experience placing customers in the perfect houses for them.
Digg's Tacos
Matt's Rancho Martinez
To find more lifestyle videos designed to help you find the perfect community, CLICK HERE!