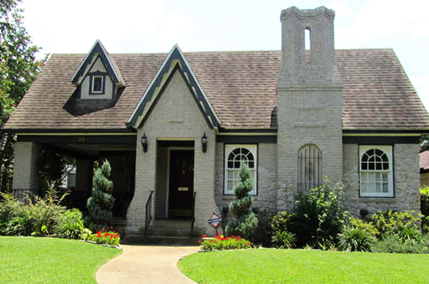 The
M Streets
neighborhood, also known as Greenland Hills, represents the ultimate successful suburban design. Instead of being built in phases like many of the communities that border M Streets, this area was subdivided and laid out into hundreds of modestly sized plots before being sold off to individual developers. This guaranteed that all new development would take place on a similar scale, but the homes would be anything but cookie cutter.
Greenland Hills was built on roughly 98 acres of rolling farmland outside of the Dallas city limits in the 1920s. Despite the Great Depression, young professionals and their families still flocked to this neighborhood and helped build a community that would soon be the envy of working-class Texas.
Although the houses in M Streets are all unique in their own way, they tend to all subscribe to the Tudor-style, English cottage school of architecture. Sloped roofs with peaked dormers and stained glass windows are found throughout this part of the city. Despite the tree-lined streets and sprawling green lawns, M Streets is only a short 5-mile drive from downtown Dallas, making it a highly desirable locale for those looking to settle in the area.
Today, many families who come to this community enjoy it not only for its rustic and quaint airs, but for its convenience and abundance of amenities – including access to some of the best schools in the city. This area is also in close proximity to the shops and unique eateries on Henderson and Greenville, just one more reason to love the M Streets neighborhood.
To determine if M Streets is the right neighborhood for your investment in Dallas real estate, contact one of the lifestyle experts at Modtown Realty Group today.
The Corner Market
HG Supply Co
To find more lifestyle videos designed to help you find the perfect community, CLICK HERE!