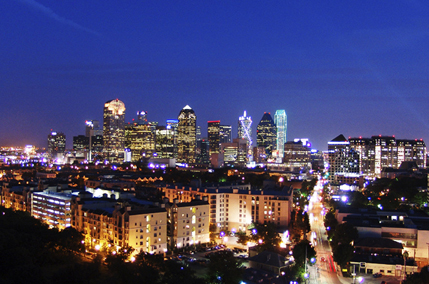 Uptown
is an upscale neighborhood in Dallas, Texas. Uptown is adjacent-to and north-of downtown Dallas, and is bordered by US 75 (Central Expressway) on the east, Dallas North Tollway on the West, Knox/Henderson to the North and (Woodall Rodgers Freeway) on the south.
Uptown is one of the most pedestrian-friendly areas in all of Texas. It is largely "new urbanist" in scope; the majority of facilities considered "Uptown institutions" are relatively new and were created during the late 20th and early 21st Centuries' new urbanist urban planning movement. Popular with a diverse group of young professionals, multi-use development is the norm and an increasingly pedestrian culture continues to thrive.
There is no shortage of things to do around the Uptown area, with eateries and nightlife venues that will surely occupy any free night for those in the area. With neighboring State-Thomas, Cedar Springs and West Village areas; boredom is certainly not in the dialect of Uptown residents.
Primarily luxury apartment and townhouse properties, Uptown is one of the most popular communities in all of Dallas for young professionals and families alike yearning for a true urban environment.
If you think Uptown is the neighborhood for you, let us help you locate the perfect property. The lifestyle pros here at Modtown Realty Group are determined to help you find your new home, and share our love of Dallas with you.
Sushi Zushi
Flirt Boutique
To find more lifestyle videos designed to help you find the perfect community, CLICK HERE!